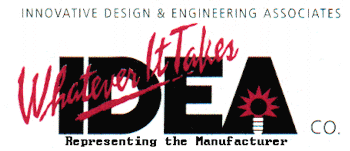 ---
Agency specializing in Custom Engineered Components since 1987 MISSION
To specialize in the supply of engineered components and materials to OEM customers. To promote goodwill and professional relationships between our suppliers and customers. These relationships are created with IDEA Company for the long-term and are based on credibility and mutual respect for all parties involved. Customers of IDEA Company and our suppliers are our "number 1" priority and we will do "whatever it takes" to ensure their needs are met.
---
AGENCY PHILOSOPHY
To provide service to our customers that involves assistance in proper material and design choice, and assistance with orders in process to assure orders are completed to agreed-upon specifications and delivery.
To provide non-conflicting lines which compliment one another and can be presented to certain design, engineering and purchasing people within an existing or potential account so as to eliminate the need for large duplication of effort.
To promote specification (where possible) and sales of our principals products.
To work in diversified markets so as to eliminate "fluctuating" sales periods.
To enjoy all aspects of selling. To belong to a truly remarkable group of people who are growing personally for their own satisfaction, and will succeed in surpassing their own expectations.
---
AGENCY OPERATIONS
(Travel, Information Management, and Communication)
Market Research and intelligence gathering expertise. Emphasis placed on efficient and effective marketing.
The Agency provides periodic literature and specifications on our product lines to many existing and potential OEM design, engineering and purchasing departments.
A networked computer system, (utilizing RPMS software), tracking all agency sales activity as well as status of all quotations and sales leads extended by our principals.
Agency receives copies of all PO and PO change information that is sent to suppliers. Allows same day entry into IDEA computer system for tracking purposes.
Quarterly newsletter, "Better IDEA News", issued to current and potential customers highlighting latest news from suppliers.
A full time inside Administrator is able to immediately help customers in need of assistance.
---
OEM MARKETS
Marine and Recreational Vehicles